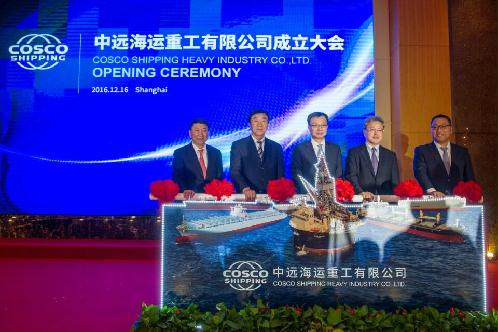 On Dec. 16th, 2016, the opening ceremony of COSCO Shipping Heavy Industry Co., Ltd. was held in Shanghai.

Mr. Zhou Bo (Shanghai Deputy Major, standing member of CPC), Mr. Cao Liqiang (head of Shanghai Hongkou District), Mr. Wan Min (president of China COSCO Shipping Group), Mr. Wang Yuhang (Vice general manager of China COSCO Shipping Group) and Mr. GuoDacheng (Chairman of China Shipbuilding Industry Association) attended the ceremony, unveiled the name plate and set sail the new company off in the final.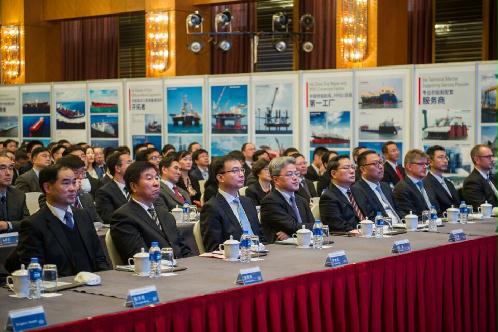 More than 200 guests from world-wide famous shipping company, oil company and offshore operation company, such as Maersk, CMA, MODEC, etc., also representatives from financing institutions, international classification societies, media groups and COSCO Shipping headquarters attended the ceremony which was hosted by Mr. Liang Yanfeng, GM of COSCO Shipping Heavy Industry company.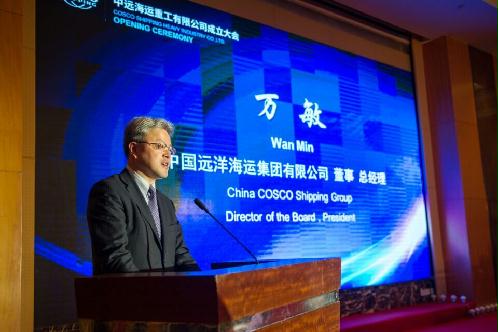 The establishment of COSCO Shipping Heavy Industry is a major measure during the integration of COSCO SHIPPING equipment manufacture cluster. The equipment manufacture cluster of COSCO SHIPPING includes COSCO Shipyard Group, COSCO Shipbuilding Industry Company and China Shipping Industry Company.
The affiliated companies are mainly located in Yangzi River Delta, Pear River Delta and Bohai Bay, total including 13 large scale shipyards and more than 20 supporting service companies, which mainly engaged in shipbuilding, offshore and marine equipment manufacturing, ship repair and supporting services. Over the years, these companies sized the chance of industrial pattern adjustment, and continued to expand, starting from scratch, from small to large, from weak to strong and made great achievement in various fields.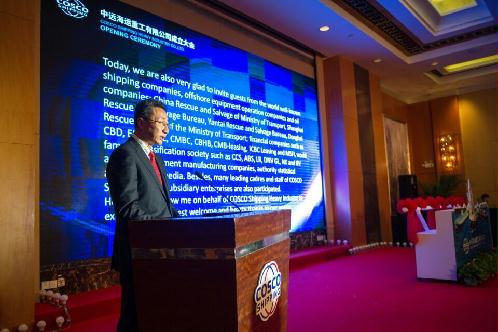 Customers are around 100 countries and regions in the world. COSCO Shipping Heavy Industry is the important partner of the world's well-known shipping companies and marine oil server providers; Design and Manufacturing of Deepwater High-stability Cylindrical Drilling Platform has been awarded as First Prize in the State Science and Technology Progress Award. The experimental intelligent shipbuilding workshop has been listed as the first batch of demonstration projects by the Ministry of Industry and Information.
COSCO Shipping Heavy Industry will insist on the idea of "market oriented and customer-centric" and provide the best products and services to the global clients. COSCO Shipping Heavy Industry will provide a wider stage for the employees by promoting core competence and culture soft strength. With the shipping and financial center advantages of Shanghai, COSCO Shipping Heavy Industry will achieve its self development as well as make bigger society value and contributions to the region economic development.
Group Background Information
COSCO SHIPPING HEAVY INDUSTRY CO.,LTD. ( hereinafter referred to as CHI ), the shipping industry cluster of COSCO SHIPPING Corporation Group, is a large heavy industry enterprise for ship & offshore newbuilding/repair/conversion/demolition, and marine supporting service, established in December 2016, Shanghai.
We are integrated by COSCO Shipyard Group Co.Ltd., COSCO Shipbuilding Industry Company, China Shipping Industry Co.Ltd., Devote to building China's leading, world-class shipbuilding and marine engineering enterprises.
We have 44 subsidiaries, and now are the top runner of modern China's merchant shipbuilding, with a total annual production capacity of 8,000,000 dwt. Up to now, We have delivered more than 780 vessels of diverse types and more than ten types of vessels filled the vacancy of China shipbuilding industry.
We are the pioneer of China offshore marine engineering. Could build 12 offshore marine products and 20 offshore modules yearly. And so far, we have delivered more than 50 EPC projects ranging from inshore to offshore, many of them are the first of their kinds in the domestic industry and high-end in the world.
We has been known as the "aircraft carrier" & the First Class FPSO Conversion factory in China. The annual ship repair and conversion volume could amount 1500. We also have a technical marine supporting service provider, which could provide convenient and fast technical service to the clients in any harbors of China.
With global customer service network, we set up commercial headquarters in Shanghai and representative offices in Hong Kong, USA, Singapore and Greece etc. Our clients are around 100 countries and districts in the world. COSCO SHIPPING INDUSTRIES is a well known offshore oil service provider and the referred business partner of the world's leading shipping companies.