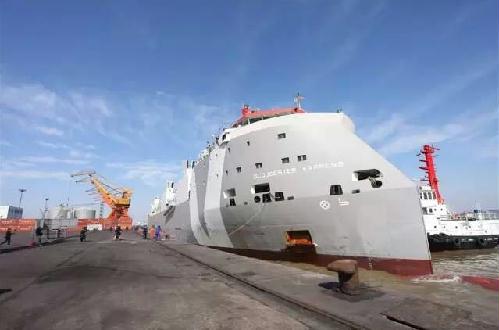 China first shipment of 1195 slaughter cattle imported from Australia by sea has arrived at the Port of Shi Dao in Rong Cheng,Shangdong Province on 20 February.
The beef cattle are imported by Shandong Rongcheng Tai Xiang Group. Before that, the Australian live cattle exported to Chongqin and Henan were all imported by air port.Compared with air transportation, sea freight shipment has competitive advantages both in quantity and logistics cost.
This shipment was carried by GLOUCESTER EXPRESS, a livestock carrier built by COSCO SHIPPING HEAVY INDUSTRY subordinated company COSCO Guangdong Shipyard. As the only domestic shipyard that has the ability to build and deliver livestock carrier, COSCO Guangdong Shipyard has already delivered 7 livestock vessels to the World Biggest livestock Carrier Owner/Service Provider Vroon B.V.
Remarks:
On November 2014, China and Australia had reached the agreement that China will import 1,000,000 slaughter cattle from Australia every year.
On June 2015, under the China-Australia Free Trade Agreement, the two countries came to an agreement about slaughter cattle quarantine and Australia became the first country exported live slaughter cattle to China.