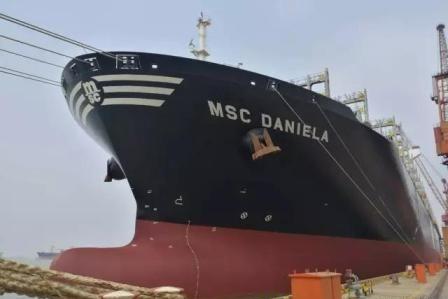 Recently, Sea damage vessel 'MSC DANIELA' finished its almost three months repair, and start its new journey.
'MSC DANIELA' belongs to MSC shipping company, it's a 13800TEU Ultra container ship, the vessel has caused fire damage in May 2017, as a long term partner, ship owner ask for help to CIC Changxing Shipyard, CIC Changxing Shipyard response to ship owner when they received message, and send specialists to analyses the damage of vessel, finaly the ship have been shipped into CIC Changxing shipyard for repair.
This vessel major part of hatchway repair, require lots different type high tension thick steel plate, its really hard to find in market, and it also need skilled welding specialists to do the work, so CIC changxing shipyard contact brother company COSCO Qidong Offshore, and confirmed teamwork repair method, Ship Owner gives high value to vessel repair quality and period.
Under teamwork between CIC Changxing Shipyard and COSCO Qidong Offshore, Sea damage vessel 'MSC DANIELA' complete its sea damage repair, and it shows COSCO SHIPPING GROUP resource integrated advantage.