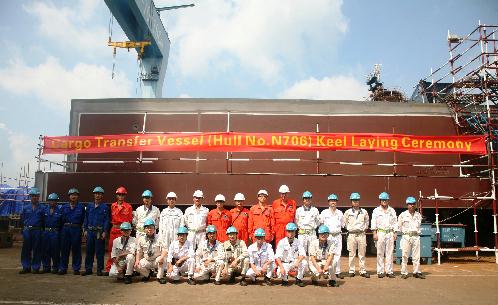 On August 7th 2017, Cargo Transfer Vessel (CTV) designed by COSCO (Guangdong) Shipyard is laying its keel and officially entered the assemble stage.
CTV is the world's first design with 89m long and 20m wide. The basic, detailed and production design were finished togethered by COSCO (Guangdong) Shipyard and COSCO (Nantong) Shipyard. Before keel lay, the stocking rate has reached 85%. The production schedule was consistent with the plan. Duirng keel lay, the CTV will be assembled with 17 parts and be completed with the whole ship equipment installation, 80% cables laying, and 30% mechanical completion test, etc. The vessel will be launched at the beginning of 2018.
This CTV is classed by DNV-GL. The living area could accommodate 36 people. It has 4 high power diesel engines, 2 five tons cranes, 2 podded propulsors. The bow has 2 full rotation telescopic propellers and one pipeline propeller. With the high dynamic positioning ability, the large tanker could be positioned in safty work area steadily.
The vessel is equipped with variable speed diesel engine and DC power station system to increase the efficiency of fuel and reduce discharge. And it will also initiate a new way in oil transfer which makes the transfer of oil from FPSO to normal tanker directly and safely.