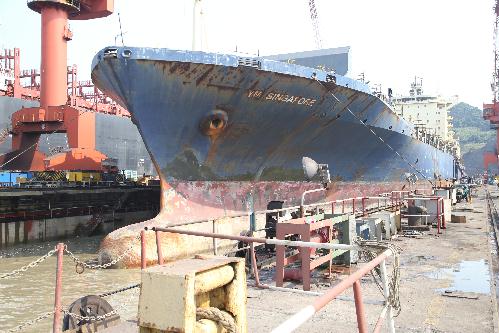 On 11th July, Greece DANAOS container ship SINGAPORE started its shorten conversion project in COSCO (Zhoushan) Shipyard. It is also the second shorten conversion project finished by COSCO (Zhoushan) Shipyard this year.
On January, COSCO (Zhoushan) Shipyard has completed DANAOS's COLOMBO conversion project. The efficient and quality was highly recognized by the Owners. The conversion work of SINGAPORE included the modification of bulge area and longitudinal, fairing transition, modification and subdivision of the cargo holds, and etc. The vessel is expected to be shorten with 42.6 meters under plenty of steel construction work and superior security control. At present, the vessel has finished its shorten part cutting work, the positioning and installation work is going steadily.
Greece DANAOS is a key clients of COSCO (Zhoushan) Shipyard. Two parties has maintained a good relationship in normal ship repair and bulbous bow conversion. The vessel GREECE ROMA and BRLIN once successfully completed its bulbous bow conversion in COSCO (Zhoushan) Shipyard.