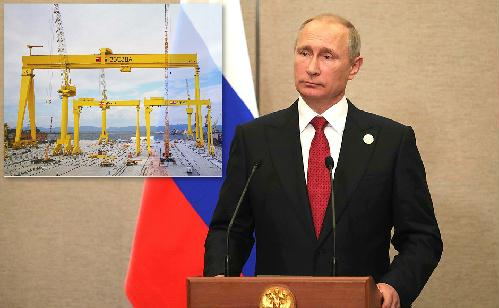 On September 8, Russian Zvezda shipyard having the ceremony for heavy ship building platform delivery and 4 multi-purpose ice-breaker vessel order from Russian Oil, Russian President Mr.vladimir putin attended the ceremony reviewed project and have speech. COSCO Shipping Heavy Industry vice GM Mr.Zhao Zengshan and COSCO Shipping Heavy Industry vice GM Mr.Zhang Jianxin also attend the meeting, Nantong COSCO heavy industry as the series crean building shipyard accept the live interview.
Zvezda shipyard is a large shipbuilding shipyard controlled by Russia's state oil company. the shipyard is the revival of the grand plan, the most important task is the revitalization of the shipbuilding industry in Russia. President Mr.Putin pointed out: "this is a particularly large projects, we believe we can developed (Russia) is of great significance to the domestic people."
Nantong COSCO Heavy Industry site principal Mr.Zhao Kui accept interview, introduced the support from COSCO SHIPPING CORPORATION, and the efforts of Nantong heavy industry to complete project less than 1 and half years,
   Nantong cosco heavy industry quality products and services has been recognized by Russian state oil company, Zvezda shipyard will have large demand in future development, Russian market will be a special important significance to Nantong COSCO Heavy Industry.