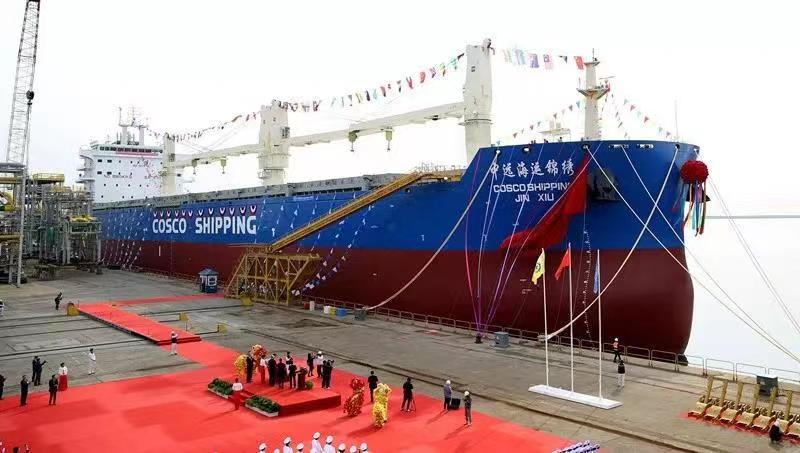 On 6th November, the 5th 62,000DWT multi-purpose pulp carrier N1002, designed and built by COSCO SHIPPING Heavy Industry (Dalian) Co.,Ltd., was named COSCO SHIPPING JIN XIU.
The vessel COSCO SHIPPING JIN XIU has a overall length of 201.8m, with a width of 32.26m and depth of 19.3m. The draft is 13.3m, speed is 13.5 knots, and the endurance is 22,000 nautical miles. The ship is classified by China classification society and registered as China-flagged. The ship has a green license, and the main engine and auxiliary engine are equipped with SCR system, which can neutralize the nitrogen oxide generated in the fuel oil discharge process and meet the highest requirements of the international convention on prevention of pollution standards.
Up to now, COSCO SHIPPING Heavy Industry had successfully built several multi-purpose pulp carriers whose routes throughout China, Singapore, Africa, South America and other parts of the world. The first vessel ZHONGYUANHAIYUN KAI TUO completed its first whole pulp voyage from South America to the Far East with no damage. The second vessel ZHONGYUANHAIYUN CHUANG XIN had finished its wind power equipment and pulp transport tasks with high quality. The third vessel ZHONGYUANHAIYUN JIN QU sucessfully delivered 8 urban rail train sections to Sao Paulo, Brazil on its maiden voyage. The new running vessel COSCO SHIPPING ZHUO YUE has already completed its transportation tasks in South Korea and South Africa line. In the future, more multi-purpose pulp carriers will be sailed in the world which will further enhance COSCO SHIPPING Heavy Industry's brand image in special ship construction field. The win-win cooperation will also play a positive demonstration and guidance role in one Belt and one Road project.