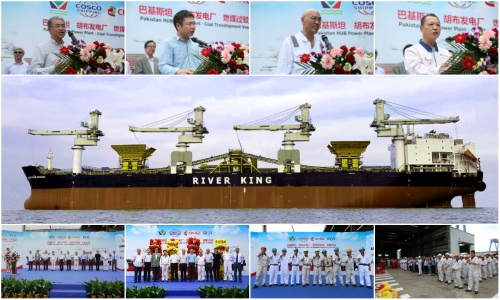 On 29th July, COSCO SHIPPING Heavy Industry (Guangdong) Co.,Ltd. successfully delivered the RIVERKINGMASTER, the China first coal-burning barge conversion project, and held the sailing ceremony. The ship is about to sail to Karachi port of Pakistan.
The hubu coal-fired power industry is a priority energy implementation project of the china-pakistan economic corridor (cpec). It was jointly invested and developed by China power international limited and Pakistan hubu power co., ltd. in Karachi port in March 2017. After being put into operation, it will provide 900 million kilowatts of power per year, which will greatly alleviate the power shortage in Pakistan.After delivery, the RIVERKINGMASTER will be anchored off the port of Karachi, Pakistan, to serve the hubu coal-fired power plant, which will transfer coal from a large ship to a barge to be delivered to the port.
The modified coal barge "RIVERKINGMASTER" is guangdong cosco shipping company for Pakistan CLP international Hu Bu coal-fired power plant modification of high-end high automation sea coal barge, including the original 90000 DWT bulk carrier mounted on four coal transport hoisting, a deck coal conveyor, 3 sets of 2450 kw generator and living areas of new added 23 room main modification project.