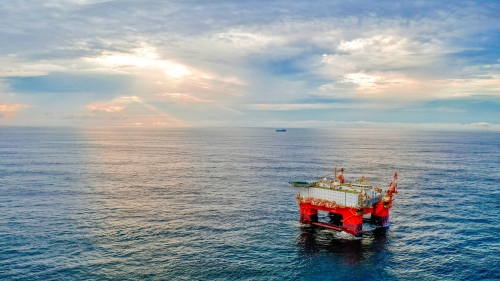 On 4th July, the semi accommodation rig 'SAFEEURUS'have been successfully delivered , the rig its designed and built by COSCO SHIPPING (Qidong) Offshore Co.,Ltd.
'SAFEEURUS' its Designed and built by COSCO SHIPPING (Qidong) Offshore Co.,Ltd. The owner its world's largest offshore living platform operator PROSAFE, the platform has 237 double rooms and 26 single rooms, which can accommodate 500 people and dine 240 people at the same time, equivalent to a luxury 'five-star hotel' on the ocean. The platform is 95 meters long, 67 meters wide, 35.7 meters deep and nearly 60 meters high, with a designed draft of 8.6 to 20 meters and a maximum displacement of 33,300 tons. The platform is equipped with 6 main engines, 6 thrusters, DP3 dynamic positioning system, 8-point mooring auxiliary positioning system and advanced collapsible trestles, which can protect the life safety of the crew to the greatest extent and meet the operational requirements in the north sea, the gulf of Mexico, Brazil and other areas.
'SAFEEURUS' have sea trial on 17th June, and installed the propeller on 3rd Junly. After the platform is delivered, it will be commissioned in Brazilian Sea area.