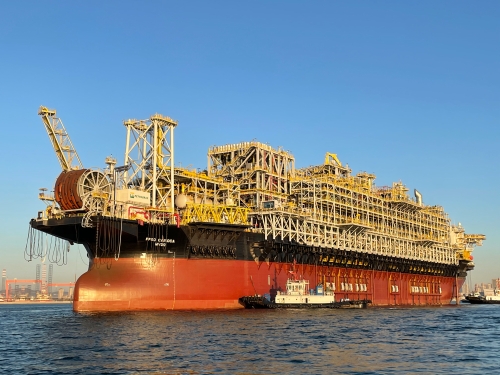 On 13th November, The 10th FPSO MV30, coversioned by COSCO SHIPPING Heavy Industry (Dalian) Co.,Ltd., was officially delivered to MODEC.
The FPSO MV30 is totally 332 meters long, 58 meters wide and 31 meters deep, with a displacement of 306,000 tons. As the world's newest FPSO, it integrates production processing, storage, unloading, personnel living and production command, and can accommodate 160 people working and living at the same time. The project can operate continuously in oil field for 26 years without docking for maintenance, which is a veritable "giant offshore oil processing factory".
In 2020, due to the impact of COVID-19, the MV30 project will face many difficulties and challenges. COSCO SHIPPING Heavy Industry (Dalian) Co.,Ltd. actively negotiate with owner's communication, taking the form of "cloud office, cloud meeting" to overcome the outbreak, meet difficult problem, at the same time in accordance with the requirements of disease prevention and control, careful organization, planning personnel backflow, epidemic prevention, measures such as construction, reduce the epidemic affection, and finally ensure the timely delivery of the project.