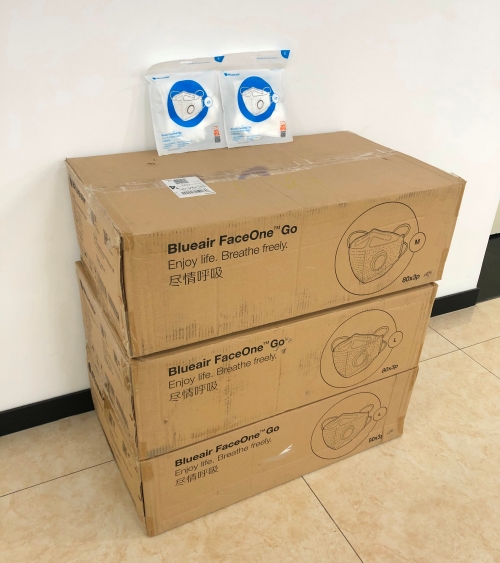 The Spring Festival of 2020 appears to be particularly deserted under the influence of pneumonia virus caused by a new coronavirus. In the first week after the resumption of work, there is no noisy call and bustling customers in the office of Commercial Headquarters. Instead, the returning operating personnel were engaged in online business contacts.
Suddenly, the sound of a phone ringing broke the tranquility of the office. The anti-epidemic materials were delivered.They were more than 700 masks in three boxes, donated by Greek ship owner Starbulk SA!
Starbulk SA expressed their concerns when first knew the outbreak of pneumonia in China. They learned about the latest news of the epidemic and the shipyard's situation through email, phone and other channels. With the escalating of the epidemic, many provinces and cities in China had initiated a first-level responding to major public health emergencies. A variety of protective equipment, especially masks were insufficient. After learning that, Starbulk SA started tolook for procurement channels. With the tireless efforts the masks arrived shortly after CHI resumption of work.
Friendship is more priceless in times of adversity. With the understanding and support of Starbulk SA, COSCO Shipping Heavy Industry will further strengthen the confidence in responding to the epidemic. As a responsible enterprise, We CHI always fulfills our social responsibility. Protecting the lives and health of employees, customers and partners is our top priority. In addition to the prevention and controlling of the epidemic, CHI actively deploys the production arrangements and plans for the resumption of work after Spring Festival and the epidemic. We will try our best to minimize the adverse impact of the epidemic and protect the interests of our customers and partners to the greatest extent.
With the understanding and supports of our customers and partners such as Starbulk S.A., we firmly believe that we will finally win the fight against the new virus!
(Edit by Liu Qing/Deng Mao; Photo by Liu Qing)
Starbulk SA was founded in 2006 and is one of the largest Greek shipping companies who is listed on the NASDAQ in New York withits offices in Athens and Cyprus. The company has a certain influence in Greece and the global shipping market. As an important partner of COSCO Shipping Heavy Industry, both parties have long-term and in-depth cooperation in the fields of ship repair and shipbuilding.