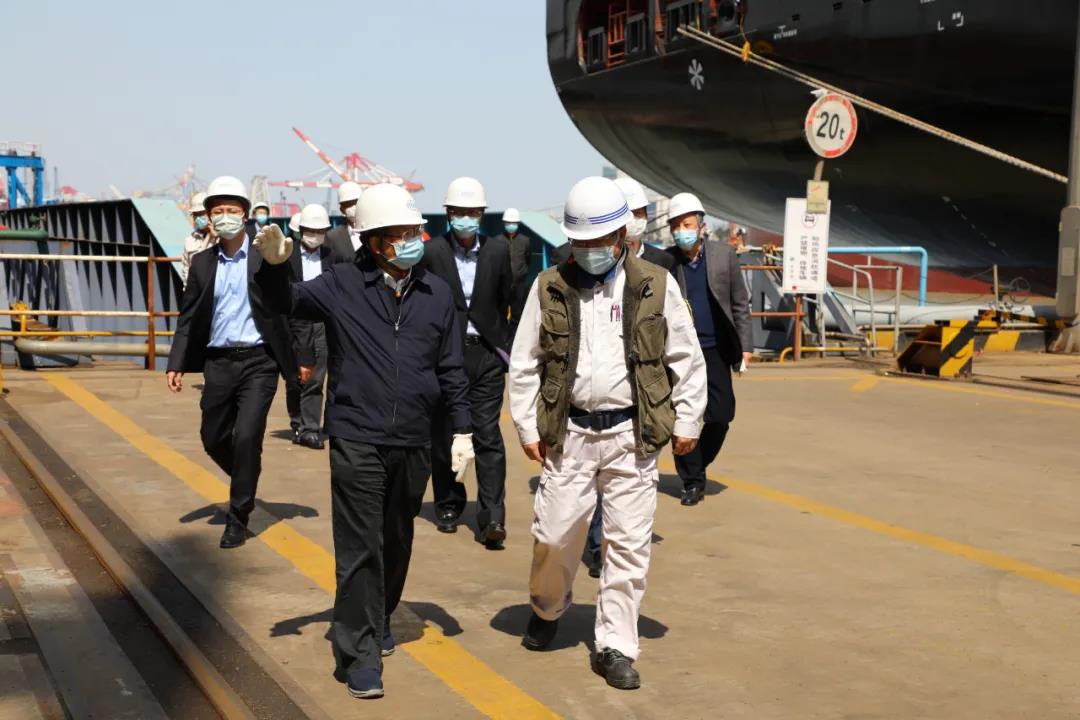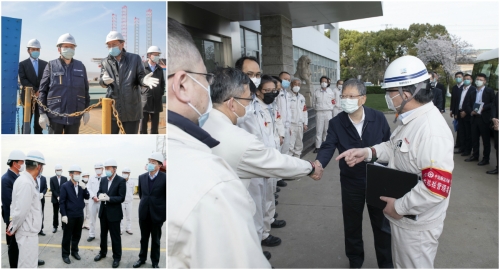 Recently, COSCO Shipping Group Director, General Manager, Deputy Secretary Mr. Fu Gangfeng visited COSCO Shipping Heavy Industry branch company COSCO SHIPPING Shipyard (Nantong) Co., Ltd./ COSCO SHIPPING (Qidong) Offshore Co., Ltd., NANTONG COSCO KHI Ship Engineering Co., Ltd., COSCO SHIPPING Heavy Industry (Yangzhou) Co., Ltd. And COSCO SHIPPING Heavy Industry (Shanghai) Co., Ltd. to gather feedbacks and instruct on new processes through in-depth communications with CHI management team.
Mr. Fu listened to the report of the company production and the party construction, as well as discussed, the enterprise management and business practices. He encouraged the enterprise to focus on the future developments with persistent efforts, broaden the vision, continue to deepen the quality and efficiency, enhance the core competitiveness, and do better moving forward. At the same time, Mr. Fu affirmed the achievements of "Learning Kawasaki" made by CHI in recent years, encouraged the enterprises to conduct systematic and in-depth research on the work of "Learning Kawasaki" based on the market development rule, and continuously improved the core competitiveness of enterprises.
During the audit and research visit in Yangzhou, Mr. Fu met with Yangzhou Municipal Party Committee Secretary Mr. Xia Xinyan to extend his deep appreciation and thanks to Jiangdu district party committee for providing the key support to Yangzhou COSCO Shipping Heavy Industries in return to production during this year's epidemic prevention and control. He looks forward to deeper strategic communications and collaborations between the both parties to further develop a stronger and more efficient Yangzhou maritime industry.