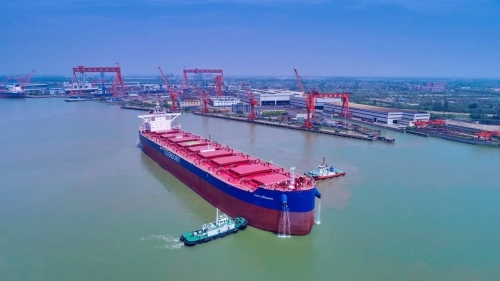 On 30th April 30, the ship "HARRY OLDENDORFF" (hull no. : N915) 208K DWT bulk carriers was successfully signed and delivered to China Development Bank Financial Leasing Co., Ltd. (CDB Leasing) , this is the first 208K DWT bulk carriers of the series of 208K DWT bulk carriers newbuilding contract.
The ship "HARRY OLDENDORFF" is 299.92 meters long, 50 meters wide and 24.89 meters depth. The ship is characterized by energy saving, environmental protection, easy to operate and safe operation. Compared with the traditional bulbous bow, the upright bow can not only effectively increase the ship's carrying capacity, but also has good seawall resistance and fuel consumption during the full-load draught voyage.
The ship was delivered 10 days after the trial voyage. Ship's construction efficiency and quality were highly appraised by the ship owner and the surveyor, and a letter of thanks from the ship was received on the day of delivery.