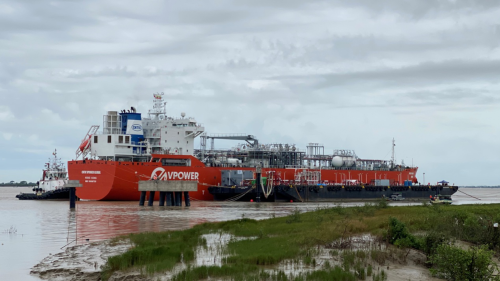 In early June, the 28,000 cubic meter LNG carrier, built by COSCO SHIPPING Heavy Industry (Dalian) Co.,Ltd., successfully docked at the port of Yangon, Myanmar, becoming the first LNG carrier to dock in Myanmar's history and completing the transportation task of importing LNG for the first time in Myanmar. Myanmar's state television (MRTV) gave a special report for this incident.
All of the LNG shipped to Myanmar by CTTV Global will be used for The country's first LNG - fueled power generation project, the Daci Power Station. It is understood that the daji power station is invested, built and operated by the CTTGW Global. The power station was successfully connected to the grid on June 14.
This LNG its aadvanced small and medium-sized LNG carrier in the world. It is classified into the CCS Classification Society, with a total length of 176.8 meters, a width of 27.6 meters and a depth of 18.5 meters. Three C-type cargo tanks are designed, with the largest capacity of 10,000m3, which is the largest C-type LNG carrier with single compartment built by Chinese shipyards at present. The minimum design temperature of the ship's cargo tank is -164 ° C. In the field of shipbuilding, LNG carrier is one of the most difficult ships to build in the world, which is called "the pearl on the crown" in shipbuilding fields.