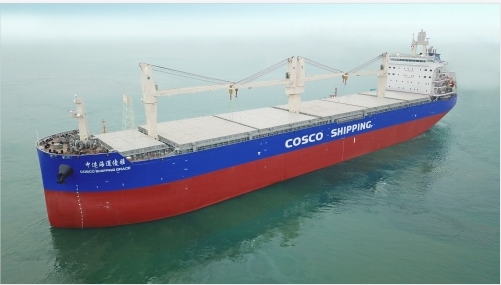 On December 20th, the 62,000 DWT Multi-purpose Pulp Vessel N1039 built for COSCO SHIPPING Development Co., Ltd was named and delivered by COSCO SHIPPING Heavy Industry (Dalian) Co., Ltd <CHI (Dalian)>.
This ship is named as "COSCO SHIPPING Grace", which is the 13th of a series of 62000 DWT multi-purpose pulp vessels. This ship type has become a more mature series of special ship products of CHI (Dalian)。
Compared with the previous series of ships, the vessel is ice area is strengthened and the fuel tanks are enlarged,the economy of ship's main engine has been further improved. During the construction of this ship, the project team continued to improve the assembling accuracy and efficiency, and further shorten the construction period on slipway.