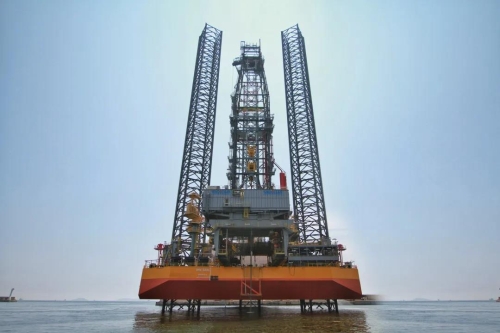 Recently, The Super116E jack-up "Smsessa" (N596), built by COSCO SHIPPING Heavy Industry (Dalian) Co.,Ltd. for SINOOCEAN, after completing pre-operation commissioning the Jack-up has begun drilling operations in Abu Dhabi, United Arab Emirates.
N596 is an advanced, energy-efficient, environment-friendly and safe new type of jack-up offshore drilling platform designed and built in accordance with the special requirements of ABS Classification Society. It has a total length of 74.09 meters, a width of 62.8 meters, a depth of 7.92 meters, a working water depth of 106.68 meters and a drilling depth of 9144 meters. The main hull of the platform is triangular, equipped with three square single-sided rack truss pile legs, and pile boots are installed at the lower end of the pile legs, which stand on the sea floor through the pile legs and pile boots. The living area can accommodate 120 people, with kitchen, dining room, medical room, single room, movie room, gym, etc., which can fully meet the seafarers' needs of Marine life and entertainment. The platform can withstand up to 100 knots of wind and is suitable for the Indian Ocean, the Middle East and the Gulf of Mexico.
The N596 platform is an successfully example of COSCO SHIPPING Heavy Industry with SINOOCEAN to explore the international market. The successful spudding of the rig, which was recognized by the Abu Dhabi National Oil Company (ADNOC), further demonstrates the company's production strength.